Ottawa Family Photographer - A Love Story
Do you remember high school? You know, that socially awkward stage and rushing hormones. Heck, adults can barely handle being awkward and hormonal, why teens have to go through that too is beyond me. For me, high school was 1990 to 1995 in a little town south of Montreal. It was 1993, and there was this cute boy in my class. This is where our story begins.
So this blond-haired, blue-eyed boy with giant glasses that were right out of the 80's was in my homeroom class. His name was Cameron, he was smart, and had a whole lot of smart-*ssness as well. Smart-*ssness meant instant interest on my part. I remember we used to text back and forth while the teacher was teaching. Silly me, my mistake. We were passing notes! Remember those? Carefully folded into little envelopes or squares, or whatever was the "new" way of folding notes at the time. It was a daily stream of notes , and we looked forward to each and every one. We were great friends. We truly "liked" each other, and I was unknowingly smitten.
Then one day...
That blond-haired, blue-eyed boy broke the news that he was moving away. Far. Too far. Winnipeg far. Noooooo! I was losing my friend. Or would I? Remember, this was a time with no email. No email, no texting, no social media, and no face-time. So...passing notes in class turned to writing weekly letters. Yes, snail mail. These letters continued, between Montreal and Winnipeg, for 4 long years. Let's not even mention the OBSCENE long-distance telephone bills that our parents would receive. Would you believe me if I told you I still have every single one of those letters? Yup, I do. Tucked away in a box that's sitting on a shelf in my closet.
Think about this, we started writing letters at 15. Young kids, kinda crushing on each other but confused too. Over the years, we grew closer. We connected even more, despite the distance. What was once a crush at 14, blossomed into love at 19. But I was still in Montreal, and he was still in Winnipeg, so we couldn't be together. Not yet.
Then one day...
That smart-alecky boy called with so much excitement. His family was now leaving Winnipeg, and moving to Ottawa. For those not familiar with Canadian geography, Ottawa and Montreal are just a short 2 1/2 hour drive away from each other. This was a major game changer. Our future together was now within reach.
Just a week after moving to Ottawa, he hopped in his old, white, Ford pick-up truck and drove down to Montreal to see me. We were 19, and hadn't seen each other in 4 years. It was like not a day had gone by. Those are the best kind of people in life. You know those friends? The ones that are far and you rarely see, but if you had a crisis at 3am and called them they'd be there to help you out immediately. It felt like an intense version of this. It was the biggest hug...and kiss : ) I've ever received and given, and it was such a incredible feeling of relief. Relief that those 4 years apart were over. Reunited at last.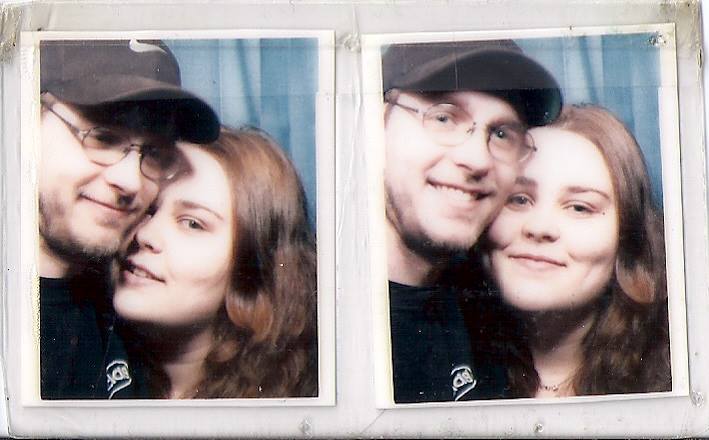 Our long-distance relationship would now last 4 more years. We were both in university, living at home, and working hard. More good news was coming our way though. His parents were moving again, this time to Nova Scotia. There was no way he was going to follow along, since a Quebec/Nova Scotia long-distance relationship would be nearly impossible. So he asked me to move to Ottawa. So one day at work, still in Montreal at this point, I said....
I quit my job, left school, and ran to Ottawa as fast as possible. It was a bit short notice to get an apartment, so we had to settle for a small, dark, basement apartment. However, that really didn't matter at all. We stayed in that apartment down by Mooney's Bay for one year, then we bought a house. Home owners at 23, pretty fantastic for this day and age. We got hitched in 2007, and started our family with a cat, then a dog, then a second dog. Because when you're an animal lover, pets are like potato chips. You can't have just one. However, with three pets in the house, there was still something missing. Human babies! We had our son at 33, and our daughter at 36. We now celebrated our 10 year wedding anniversary, and couldn't be happier.
How did you meet your spouse? Tell me in the comments section below, I'd love to know more about you!